Bob Johnson's Bike in Switzerland. Painted tank.
Dave Hunt's Bike - "Back To The Future"
Ace Cafe Reunion 2007 Brighton
Jack Lilley Triumph Stand (Centre Piece)
The stand was mobbed all day long!
Banana Egli Vincent tank: £550
Belgian customer
New Sportster Kit
Tank £550.00. Seat £210.00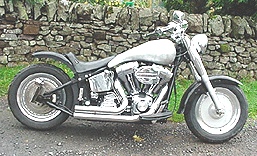 Here is just another example of the sort of things we can create.
Here's Carls one-off 5ltr tank for his scooter.Believe it or not, this tank takes as long to make as a GSXR tank. £550
N.B. Mini aircraft filler.
Here's Charlies show winning Harley.
Bobs Honda Saxon.
Dual seat made to customers design: £550
Triumph rear light unit not included.
Here is Kens F4 Spondon. The tank is a one-off and the seat is similar to the F4 MV seat.
Special Project
These are the sort of results we try to get from the sketches you supply. This tank has two air vents from the front to the middle of the tank and a rebated Dakota speedo.
Customer supplied sketches.
Here is another of our customers bikesowned by Lenny Castle. Picture taken at the Stafford Bike Show.
We made this tank for another of our customers bikes owned by John and Mandy from Yass, Australia.
We made this seat, tank and fairing for a V11 Sports SPX.
This bike belongs to Keith, we made the tank. You can contact him at Jockspeed@au.Gateway.net
Here is another of our customers bikes.
This is Geoff Claxtons Vincent. 78 bhp. at rear wheel at 5,800 rpm. 77lbs. torque at 3,500 rpm.