All oil tanks are made from 2mm aluminium. The welded corners are 12mm radius so minimum grinding of welds is necessary. On all single cylinder oil tanks and tanks made for competition bikes no welds are linished at all, as strength is a priority over fashion. Our slimline tank is 10 pints total capacity. The cap is attached to a threaded neck by a threaded boss and the boss is welded to the tank. The boss is 3 inches long the bottom of which is used as a level for the oil. Total oil capacity 7 and a half pints with 2 and a half pints air space to allow for high performance engines which return a high volume of oil and air. The breather boxes are baffled so the minimum of oil is blown out through the breather. As we manufacture all our own products on site we can alter delivery and return pipes to your specification for usual engine applications, normally at no extra cost.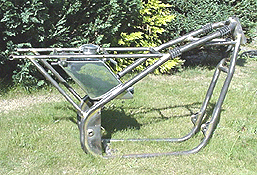 G50 oil tank. Made to fit a Roger Titchmarsh frame for Franz Glauser: £340
A65 oil tank. To get the large capacity the brackets on the left hand side of the frame need to be removed: £340
This is our oil tank/petrol tank combination, with removeable oil tank: £750
Also shown a wideline featherbed Norton seat, from: £250
Here you can see the underside of the petrol tank and the space where the oil tank fits in.
Double curvature wide line Manx oil tank: £340
Wide Line Manx oil tank with 5 gallon Manx petrol tank with clip on dents. Petrol tank: £750
Manx Norton oil tanks. Traditional shape, breather box on top left hand side, half inch OD free flow return pipe, anti-splash 3 inch neck with Monza cap that locates on a screw thread: £340 including Monza cap
Manx Norton Wide line oil tank. Half inch return pipe: £340
This picture shows the relief in the rear of the tank for mud guard clearance.
Top view of the slim line tank.
Slim line tank with quarter BSP fitting for oil return.
Slim line Triumph Twin oil tank. All engine combinations: £340 including Monza cap.