Manx tank and 7R seat for Cliff Spike.
900SS Side Panels: £250 a pair
P11 Norton Matchless tank:
£500 without badges
£550 with badges
GSXR 1000 24 ltr tank to take double premiere sealed filler system: £500. Does Not include premiere filler cap.
Also fits GSXR 750.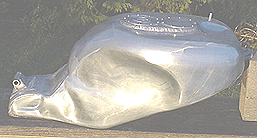 This tank will not fit a standard seat. 24 ltr, tank comes with double works filler cap: £520
MK 3 Gold Star made for Steve Tompkin: £550
Ducati fairing with any colour screen: £350
Triumph Flat Track Kit, tank: £550
Seat: £200
SR500 Flat Tracker: £550
Goldstar: £550
Sprint: £550
Manx Wideline
Egli Vincent Tank including Monza cap: £550
Seat, fibre glass base: £90
or in alloy (no upholstery): £200
900 ss Ducati
with double Monza cap: £500
Single Monza or Aircraft filler: £550
900 ss Ducati
with double Monza cap: £500
Single Monza or Aircraft filler: £550
Classic 5 gallon Manx on wideline frame: £550 including Monza cap.
As you can see the tank strap indentations on this particular tank are only at the front and top of rear, not front to back. We can make it either way. Tank comes with 2 petrol tap bosses quarter bsp. & internal baffleling as with all our tanks.
900SS Imola. Also available NCR 900SS replica of the std. tank: £550
Imola seat in alloy no upholstery: £250
Side panels: £85 pr.
Front mud guard: £75
Fairing with or without headlight hole: £220 (no screen but standard screen fits)
5 and 10 litre tanks, 10 litre shown in picture above. Comes with 'T' piece and petrol tap: £550 including filler cap
Kawasaki Z900 Z1: £550
Can be made for Velocette Thruxton with or without carb cut-out: £550
900 Bevel Ducati Std. replica of steel tank: £550
P11 with or without badges. Original butterfly cap or monza cap, 1/4 inch bsp petrol tap boss. Polished aluminium: £550
Flat track or Commando. This tank can be made to fit a variety of frames, same size or bigger: £550
Seat also available in alloy: £250 without upholstery but includes base.
5 gallon Manx Norton tank. Wideline and slimline T140, SR500 or Commando: £550 with or without clip-on dents.
XS650 Yamaha with G50 style seat.
Seat: £90
Tank: £550
We make this Manx Norton tank for 350 or 500's. It has clip on dents, a deep cam box base and comes with or without carb cut out. It also has a three and a half inch tunnel to fit Bonnevilles as we think 5 gallons is too big for this bike. It can also be fitted with a Norton Commando base. Comes with Monza cap or can be fitted with Aero filler cap and bungie buttons front and back: £550
The tank shown has one and a half inches cut off the bottom to make it 4 gallon capacity.
Just the job! Fairing, tank and seat. Made for Brian Olsen.
Alloy fairing from: £150with blue tinted screen for Tony
Screens £43 each
Double including gaskets, underplate and stainless steel screws: £90
Single double including gaskets, underplate and stainless steel screws:
£75
We can supply from stock Monza filler caps, alloy only. These caps include breather. Cap and neck: £60
2 inch is normally used on oil tanks and 2 and a half inch on petrol tanks.
Works pattern filler cap flange RC51. Comes with screws and 'O' rings ready to weld to your alloy tank: £120